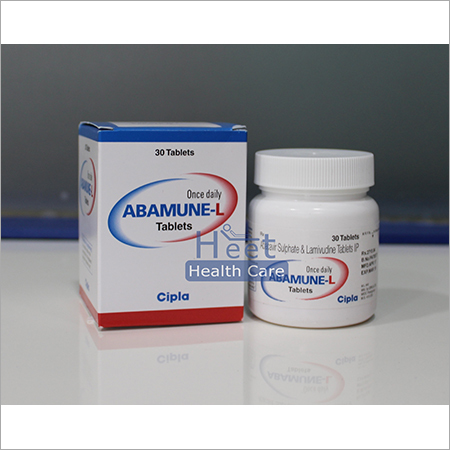 Product Description
What is Abamune-L used for?

Abamune-L tablets 600mg/300mg is a combination of two medications, abacavir and lamivudine which belong to a class of medicines called antiretroviral. They are used together with other antiretroviral to slow down the progression of HIV infection (human immunodeficiency virus), which can lead to AIDS (Acquired Immune Deficiency Syndrome) and other related illnesses for example, AIDS related Complex or ARC.

What are the side effects of Abamune-L?

Abamune-L tablets can cause some side effects. If they do occur and some may be serious, seek medical advice from your health professional as you may require medical attention. As Abamune-L tablets contain both abacavir and lamivudine, the side effects reported for each of these have been combined. It has been reported that the most common side effects which could affect at least one to ten in every 100 people include nausea, vomiting, diarrhea, upper abdominal pain, headache, high temperature, lethargy, fatigue, loss of appetite, hair loss, joint and muscle pain, abacavir hypersensitivity and skin rash. Less common side effects which could affect less than 1 in every 100 people include increased liver enzyme production, anemia (low red blood cell count), neutropenia (low white blood cell count), and reduced number of blood cells important for blood clotting.

If you experience any of the following, call your doctor immediately. Lactic Acidosis – if you become very sick with accelerated breathing, you may have a condition known as this. High acid levels in the blood can cause rapid breathing and be life threatening. This is more common in women than men. If you experience allergic reactions soon after starting Abamune-L medication, for example wheezing, any swelling of the lips/mouth, difficulty in breathing, hay fever, hives or fainting then call your doctor immediately. Like all medications, there may be other side effects that occur in some people that are not listed or some side effects that are not yet known.

How should Abamune-L tablets be stored?

It is important you keep this medication safely out of reach of children. Keep Abamune-L tablets stored in a cool, dry place below 25°C.