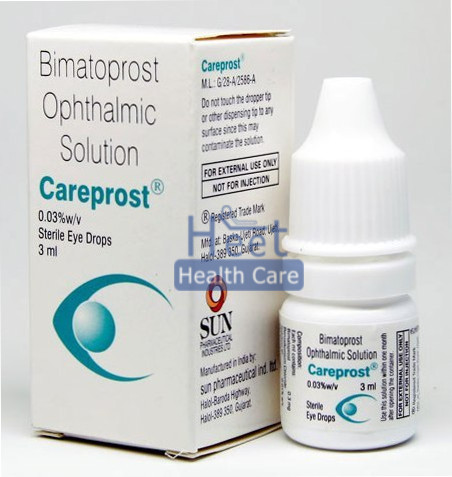 Careprost Bimatoprost Ophthalmic Solution
Product Code : 01
Rs. 420/ Bottle INR
Price And Quantity
Minimum Order Quantity

:

1
Price

:

Rs. 420/ Bottle INR
Product Specifications
Drug Type

:

Drug Solutions
Ingredients

:

Bimatoprost 0.03%w/v
Condition

:

New
Physical Form

:

Liquid
Function

:

Used in the treatment of glaucoma.
Recommended For

:

Glaucoma
Dosage

:

If you miss a dose of Careprost eye drops take it as soon as you remember, unless it is time to take the next dose, then skip the missed dose. Do not take a double dose.
Dosage Guidelines

:

As guided by physician
Quantity

:

3ml Boxes
Storage Instructions

:

You should store your Careprost eye drops in a cool place where the temperature stays below 25°C and always replace the top on the bottle to prevent contamination
Product Description
With our rich industry experience and deep knowledge, we are offering a supreme quality Careprost Eye Drops that are used to lower pressure within the eye, known as intraocular pressure (IOP) in the treatment of glaucoma, which is raised IOP caused by a buildup of fluid (aqueous humour) in the eye. The offered Careprost Eye Drops are valued for accurate compositions, precise pH value, high effectiveness and long shelf life. In order to guarantee effectiveness for longer time, we pack these eye drops using supreme grade packaging material.
Product details
| | |
| --- | --- |
| Brand Name: | Careprost |
| Generic Name: | Bimatoprost ophthalmic |
| Form: | Solution |
| Manufacturer: | Sun Pharmaceutical Ind. |
What is Careprost?
Careprost works by lowering the pressure in the eye by increasing the flow of natural eye fluids out of the eye. The active ingredient bimatoprost ophthalmic belongs to a type of medication called prostaglandin analogs. Regulating eye pressure can help prevent blindness and treat certain types of glaucoma. Some people may also use the medication to thicken and lengthen eyelashes.
How is Careprost used?
Careprost should be applied to the affected eye as directed by a doctor, usually once daily in the evening. Contact a doctor for the correct dosage and length of treatment as it will depend on the patients condition and their response to the medication. To apply the eye drops, tilt the head back slightly and pull down on the lower eyelid to create a small pocket. Hold the dropper above the eye, squeeze out a drop of medication into the eye and close the eye. Gently press a finger on the inside corner of the eye for about 1 minute to keep the liquid from draining into the tear duct.
Adverse effects
Patients using Careprost may encounter unwanted side effects such as:
Change in color of the iris
Itchy eyes
Headaches
Stinging or burning in the eyes
Dry or watery eyes
Dizziness
Eye discomfort
Contact a doctor immediately should side effects persist or encounter more severe side effects such as:
Blurred vision
Swelling of the eyelid
Pink eye
Increased sensitivity to light
Discharge from the eye
Vision changes
Eye pain
Warnings
Patients wearing contact lenses should remove the contact lenses and wait at least 15 minutes after applying the medication to put them back on.
Immediately proceed to your nearest emergency department if you suffer an allergic reaction. Symptoms usually associated with such a reaction include difficulty breathing or swallowing, chest tightness, swelling, skin rashes, and hives.
Careprost is not always suitable for all patients. Always consult your health care provider prior to using this medication if you are pregnant, breastfeeding, trying to conceive, using any other medication (prescription or non-prescription), using any herbal products or supplements, or if you have any allergies or other health problems.
The correct dosage and prescription commonly depend on the patient and the condition being treated. Do not adjust your dosage without the approval of your health care provider. This product is only for use as prescribed and instructed.