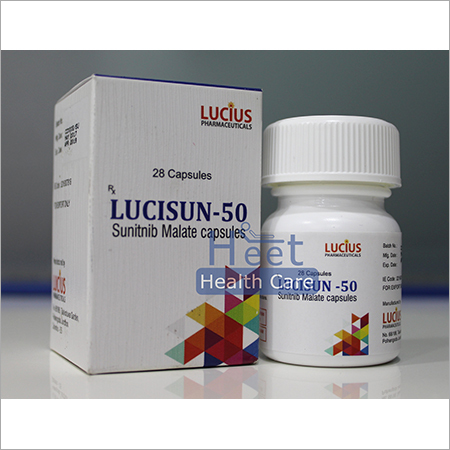 Sunitinib Malate Capsules
Product Code : 42
Rs. 30,000/ Box INR
Price And Quantity
Price

:

Rs. 30,000/ Box INR
Product Specifications
Drug Type

:

Drug Solutions
Ingredients

:

Sunitnib
Physical Form

:

Capsules
Function

:

Anti-Cancer
Dosage Guidelines

:

As guided by physician
Storage Instructions

:

Room Temperature (25 C Temperature)
Product Description
What is Sutent (sunitinib)?
Sunitinib is a cancer medicine that interferes with the growth and spread of cancer cells in the body.
Sunitinib is used to treat certain types of advanced or progressive tumours of the digestive system, the pancreas, or the kidneys.
Sunitinib may also be used for purposes not listed in this medication guide.
What is the most important information I should know about Sutent (sunitinib)?
Sunitinib can cause severe or fatal effects on your liver. You will need frequent blood tests to check your liver function during treatment. Call your doctor if you have any signs of a liver problem, such as upper stomach pain, itching, dark urine, clay-colored stools, or jaundice (yellowing of the skin or eyes).
What should I discuss with my healthcare provider before using Sutent (sunitinib)?
You should not use sunitinib if you are allergic to it.
To make sure sunitinib is safe for you, tell your doctor if you have:
· liver or kidney disease;
· heart disease, high blood pressure, heart rhythm disorder;
· diabetes (your diabetes medicine may need to be adjusted);
· seizures;
· a bleeding or blood-clotting disorder;
· a disorder of your thyroid or adrenal gland;
· a personal or family history of Long QT syndrome; or
· a history of stroke, heart attack, congestive heart failure, a blood clot, or coronary artery disease.
Search templates (CTRL+Space)
Search templates (CTRL+Space)
Search templates (CTRL+Space)
Search templates (CTRL+Space)