Bionase Asparaginase 5000IU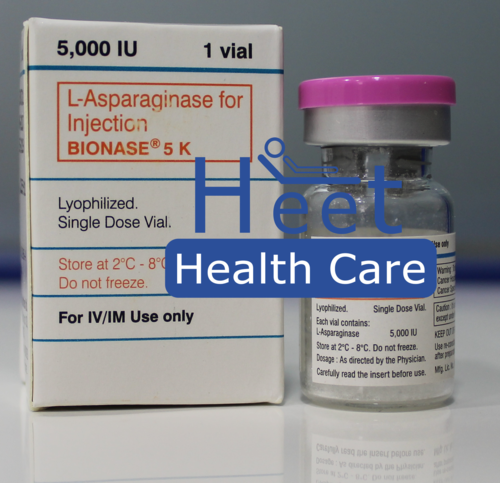 Bionase Asparaginase 5000IU
Price And Quantity
Product Specifications
Injection

Asparaginase 5000IU
Acute lymphocytic leukemia

Injection
As guided by physician

2 C to 8 C Cold Storage
Product Description
Asparaginase, the active ingredient in Bionase Asparaginase, has a strength of 5000IU. An enzyme called asparaginase is used to treat some cancers, most notably acute lymphoblastic leukaemia (ALL). It functions by dissolving asparagine, an amino acid that some cancer cells require for development. Asparaginase aids in the inhibition of cancer cell proliferation and induction of cell death by lowering asparagine levels. The use of Bionase Asparaginase in combination chemotherapy regimens for ALL aids in achieving remission and enhances therapeutic results. To manage any side effects and guarantee the best possible response to therapy, regular medical monitoring is crucial. Use of Bionase Asparaginase should be supervised by a licenced healthcare provider.
Characteristics and Advantages of Bionase Asparaginase 5000IU:
Features:
1. Bionase's active ingredient Asparaginase, an enzyme used in the treatment of cancer, is the active component of asparagusase.
2. Specifically impacting cancer cells that need the amino acid asparagine to grow, asparaginase is a form of targeted therapy.Treatment for Acute Lymphoblastic Leukaemia (ALL): Acute lymphoblastic leukaemia (ALL) is a kind of blood cancer that is often treated with Bionase Asparaginase.
3. Enzyme Replacement: The body's levels of asparagine-cleaving enzymes may be low or absent in some cancer patients. These enzymes can be replenished using Bionase Asparaginase.
4. Asparaginase is frequently used in conjunction with other chemotherapy medications to increase treatment efficacy.
5. Intramuscular Injection: An intramuscular injection is used to give Bionase Asparaginase.
Benefits:
1. Bionase Asparaginase is essential for generating remission, a state in which the number of cancer cells drops or they are no longer identifiable.
2. Slowed Cancer Progression: Asparaginase inhibits the development and division of cancer cells by lowering asparagine levels.
3. Improved Overall Survival: Treatment with Bionase Asparaginase has been demonstrated to increase overall survival rates in ALL patients.
4. Combination Therapy Synergy: Bionase Asparaginase increases the overall efficacy of cancer treatment when taken in conjunction with other chemotherapy drugs.
5. Reduced Relapse Risk: In ALL patients, asparaginase-containing regimens have been linked to a decreased relapse rate.
6. Potential for Curative purpose: Bionase Asparaginase is a crucial part of chemotherapy regimens containing multiple agents that are intended to treat ALL with a curative purpose.
It is essential to note that Bionase Asparaginase 5000IU should be used under the guidance of a qualified healthcare professional experienced in cancer treatment. Patients should discuss potential side effects and benefits with their healthcare provider before starting treatment. Regular medical monitoring is crucial to manage potential side effects and ensure the best possible outcomes. Patients should be closely monitored and provided with supportive care to manage side effects and optimize treatment effectiveness.
Bionase Asparaginase 5000IU uses include:
1. Acute lymphoblastic leukaemia (ALL), a kind of blood cancer, is typically treated with bionase asparaginase. In especially for paediatric patients and some adult populations, it is a crucial aspect of combination chemotherapy regimens for ALL.
2. The active component of Bionase, asparaginase, functions by destroying asparagine, an amino acid that some cancer cells require for development. Asparaginase helps cause cell death and suppress cancer cell proliferation by lowering asparagine levels, which aids in the induction of remission and improves treatment outcomes in ALL.
Bionase Asparaginase 5000IU side effects:
Bionase Asparaginase might have negative effects, much like all other drugs. Typical negative consequences could be:
Nausea and Vomiting
Diarrhea or Constipation
Abdominal Pain
Fever
Allergic Reactions
Blood Clotting Disorders (rare)
Liver Toxicity (rare)
Pancreatitis (rare)
During the course of their therapy with Bionase Asparaginase, patients should instantly notify their healthcare provider of any worrying symptoms or side effects. To manage potential adverse effects and maximise therapy effectiveness, routine blood tests and medical monitoring are required. It takes knowledge to utilise Bionase Asparaginase, and treatment choices should be determined in collaboration between patients and their oncologists while taking into account unique circumstances and therapeutic objectives. To manage side effects and maximise therapy efficacy, patients should be regularly watched and given supportive care.
Trade Information
Delhi, Mumbai

Letter of Credit (L/C), Letter of Credit at Sight (Sight L/C), Paypal, Western Union, Telegraphic Transfer (T/T), Cash in Advance (CID), Cheque, Cash Advance (CA)
Per Box 1 vial

Australia, North America, Eastern Europe, Africa, Western Europe, Central America, Middle East, South America, Asia