Celdaz Dacarbazine 200mg Injection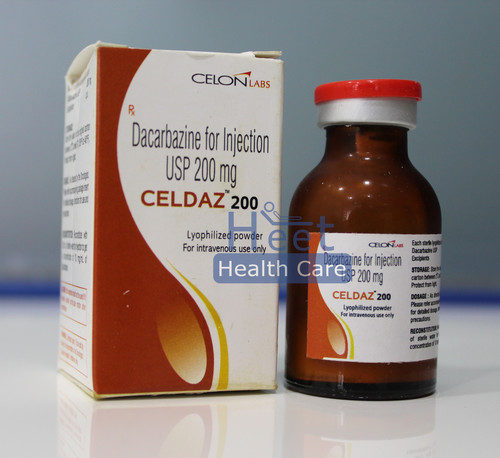 Celdaz Dacarbazine 200mg Injection
Price And Quantity
Product Specifications
Specific Drug

Dacarbazine 200mg
Malignant melanoma and Hodgkins disease

As guided by physician
Store in a refrigerator 2C to 8C (36F to 46F). More: https://www.sdrugs.com/?c=drug&s=celdaz&ingredient=dacarbazine More: https://www.sdrugs.com/?c=drug&s=celdaz&ingredient=dacarbazine
Product Description
The drug Celdaz Dacarbazine 200mg Injection is used to treat cancer. It contains dacarbazine, an alkylating substance that prevents DNA synthesis and slows the growth of cancer cells. The injection is given into the circulation and is generally used to treat soft tissue sarcomas, Hodgkin's lymphoma, and malignant melanoma. Dacarbazine is efficient against cancer cells that divide quickly and is frequently used with other chemotherapy medications to enhance therapeutic outcomes. Its use should be strictly supervised by a healthcare provider because it may have negative effects.
Celdaz Dacarbazine 200mg Injection characteristics:
1. Dacarbazine: An alkylating agent found in Celdaz Injection, Dacarbazine prevents cancer cells from synthesising DNA, killing the cells.
2. The injection is offered in a 200mg dosage, enabling accurate dosing and administration.
3. Delivered intravenously, Celdaz ensures effective distribution throughout the body and is specifically targeted at cancer cells.
Potential Advantages
1. Cancer Treatment: Malignant melanoma, Hodgkin's lymphoma, and soft tissue sarcomas are only a few of the cancers that are primarily treated with Celdaz Dacarbazine Injection.
2. Dacarbazine targets cancer cells that divide quickly because these cells are more vulnerable to the drug's cytotoxic effects.
3. Combination therapy: To improve treatment outcomes and boost overall cancer treatment effectiveness, it is frequently used in conjunction with other chemotherapy medications.
4. Celdaz may aid in tumour shrinkage, improving symptom management and maybe raising survival rates, particularly in cases of malignant melanoma and Hodgkin's lymphoma.
5. Palliative Care: In cases when the cancer has spread or is advanced, Celdaz may be used to reduce the symptoms of the disease and enhance the patient's quality of life.
6. Adjuvant Therapy: After surgery or main treatment, it may occasionally be used as adjuvant therapy to assist lower the risk of cancer recurrence.
Always speak with an oncologist or other healthcare professional to learn more about the specific advantages and potential hazards of Celdaz Dacarbazine 200mg Injection in your particular situation.
Uses for 200 mg of Celdaz Dacarbazine Injection:
1. Malignant Melanoma: A form of skin cancer known as malignant melanoma is frequently treated with the injection of celdaz dacarbazine.
2. Hodgkin's Lymphoma: This cancer of the lymphatic system is also treated with it. Hodgkin's lymphoma.
3. Soft Tissue Sarcomas: Soft tissue sarcomas are tumours that arise in the connective tissues of the body, and Celdaz is used to treat some forms of these diseases.
Celdaz Dacarbazine 200mg Injection Side Effects:
Celdaz Dacarbazine Injection may produce negative effects, just like any drug. These side effects can vary from person to person in terms of their severity and frequency. Some frequent negative effects include:
Nausea and vomiting
Loss of appetite
Fatigue and weakness
Low blood cell counts (anemia, neutropenia, thrombocytopenia)
Increased risk of infection
Hair loss (temporary)
Skin reactions at the injection site
Liver and kidney function changes
Flu-like symptoms, such as fever and chills
Not everyone will have these side effects, and some side effects may only last a short time before going away on their own. Any symptoms that are troubling must be immediately discussed with your healthcare physician.
Furthermore, dacarbazine may cause serious adverse effects, including allergic responses, heart function problems, and severe blood issues. Some people may also have more severe reactions. While you are receiving treatment, your healthcare professional will closely monitor you to address any potential issues.
It's important to keep in mind that this information is not all-inclusive, so you should be open with your medical team about any worries or side effects you may have while receiving treatment with Celdaz Dacarbazine 200mg Injection. They can offer you customised assistance and guidance during your cancer treatment.
Trade Information
Delhi, Mumbai

Letter of Credit (L/C), Paypal, Western Union, Letter of Credit at Sight (Sight L/C), Cash Advance (CA), Telegraphic Transfer (T/T), Cash in Advance (CID), Cheque
PER PACK 1 VIAL

Australia, North America, South America, Eastern Europe, Middle East, Africa, Western Europe, Asia, Central America