Soranib 200 mg Tablets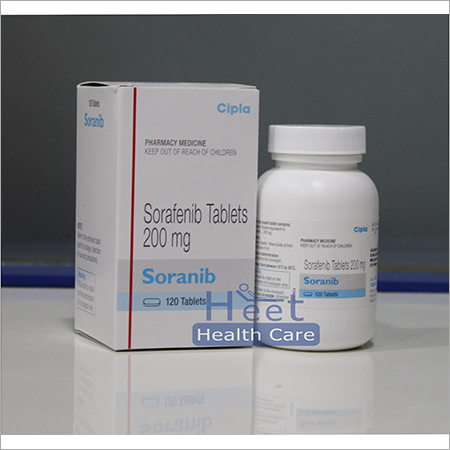 Soranib 200 mg Tablets
Price And Quantity
Product Specifications
Specific Drug

Sorafenib 200mg
If you miss a dose of Soranib tablets 200mg take it as soon as you remember, unless it is time to take the next dose, then skip the missed dose. Do not take a double dose.

As guided by physician
200 mg Boxes

ou should store your Soranib tablets 200mg below 25C in a cool dry place.
Product Description
The active component of Sorafenib is found in Soranib 200 mg pills, which are used to treat specific cancers. Sorafenib is a targeted medicine that prevents certain proteins from growing cancer cells and causing angiogenesis (the creation of blood vessels). Advanced renal cell carcinoma (kidney cancer) and unresectable hepatocellular carcinoma (liver cancer) are the two conditions for which these tablets are typically prescribed. Soranib prolongs patient survival and enhances the effectiveness of treatment by inhibiting the growth and spread of cancer cells. Because it is an oral drug, patients can take it conveniently at home. For the management of probable side effects and to maximise therapeutic benefits, regular medical monitoring is crucial during therapy.
Features and Advantages of Soranib Tablets, 200 mg:
Features:
1. The active component of Sorafenib, a targeted therapy, is present in Soranib 200 mg tablets.
2. Targeted Therapy: Sorafenib specifically targets and inhibits certain proteins involved in angiogenesis (the creation of blood vessels) and the growth of cancer cells.
3. Oral Administration: Since the tablets are administered orally, patients can administer them at home with ease.
4. Treatment for Advanced Renal Cell Carcinoma: Soranib is authorised for the management of advanced renal cell carcinoma (kidney cancer) when surgical resection is not an option.
5. Treatment for Unresectable Hepatocellular Carcinoma: This medication is also approved to treat unresectable hepatocellular carcinoma, also known as liver cancer.
6. Sorafenib is a multikinase inhibitor that focuses on numerous signalling pathways implicated in the development of cancer.
Benefits:
1. Cancer Cell Inhibition: Soranib 200 mg's main advantage is its capacity to prevent the growth and division of cancer cells, which causes the growth and regressal of tumours.
2. Improved Survival: Patients with advanced renal cell carcinoma and hepatocellular carcinoma treated with soranib have improved overall survival and progression-free survival.
3. Sorafenib provides tailored therapy by concentrating on particular pathways involved in the proliferation of cancer cells, which may have less adverse effects than conventional chemotherapy.
4. Sorafenib's capacity to impede angiogenesis the growth of new blood vessels helps starve the tumour by lowering its blood supply.
5. Long-term disease management: Soranib has the potential to slow the spread of advanced malignancies, thereby extending patient survival and enhancing quality of life.
6. Soranib may occasionally be used as maintenance therapy to stop cancer from returning after initial treatment.
7. Well-Established treatment: Soranib has a well-established safety and efficacy profile thanks to its extensive research and approval for treatment in particular cancer types.
8. Outpatient Care: Soranib 200 mg tablets can frequently be delivered without an inpatient stay, minimising the requirement for lengthy hospital stays.
9. Personalised Treatment: The use of soranib enables a treatment strategy depending on the characteristics of the cancer and the particular patient.
10. Research is still being done, and new combinations and uses of sorafenib in the fight against cancer are being explored. This means that patients with advanced renal cell carcinoma and hepatocellular carcinoma now have more therapy alternatives.
Before beginning Soranib medication, patients must discuss potential side effects and benefits with their healthcare physician. To manage potential side effects and achieve the greatest results, regular medical monitoring is essential. Soranib 200 mg tablets must be used with care, and patients and their oncologists should work together to decide on the best course of treatment while taking into account each patient's unique situation and treatment objectives.
Soranib tablets, 200 mg: uses
1. Soranib 200 mg is used to treat advanced renal cell carcinoma (RCC), a form of kidney cancer that has metastasized outside of the kidney.
2. Unresectable Hepatocellular Carcinoma (HCC): The most prevalent form of liver cancer, unresectable hepatocellular carcinoma, is advised for therapy.
Soranib 200 mg Tablets Side Effects:
1. Weakness or weariness may strike certain patients while they are receiving treatment.
2. Soranib may result in a hand-foot skin reaction that manifests as redness, swelling, and peeling of the palms and soles.
3. Diarrhoea: Digestive problems, like diarrhoea, can happen.
4. Vomiting and Nausea: Some individuals who use soranib may experience nausea and vomiting.
5. Hypertension: It might cause blood pressure to rise.
6. Rash: Some people may experience skin reactions or rashes.
7. Changes to the hair's texture and colour are possible.
8. Anorexia: Some people may have diminished appetites.
9. Bleeding Risk: Soranib may make bleeding, including nosebleeds, more likely.
10. Hypothyroidism or hyperthyroidism may result from thyroid dysfunction, which can alter thyroid function.
11. Cardiac Toxicity: Soranib can occasionally have negative effects on the heart.
12. Increased Infection Risk: Soranib can suppress the immune system, which raises the danger of infections.
13. Soranib liver toxicity may alter liver function tests.
14. Skin Sensitivity: Patients may develop a greater sensitivity to sunlight, which could result in sunburn.
When using Soranib 200 mg, it is critical for patients to notify their doctor as soon as any unsettling symptoms arise. To manage potential adverse effects and maximise therapy effectiveness, routine blood tests and medical monitoring are required. Soranib use requires knowledge, and treatment choices should be established in collaboration between patients and their oncologists while taking into account unique circumstances and therapeutic objectives. To manage side effects and guarantee the best treatment outcomes, patients should be regularly watched and given supportive care.
Trade Information
Letter of Credit (L/C) Letter of Credit at Sight (Sight L/C) Paypal Western Union Telegraphic Transfer (T/T) Cash in Advance (CID) Cheque Cash Advance (CA)

10000 Per Month
7 Days

Per Pack 120 Tablets
Australia North America Eastern Europe Middle East Africa Western Europe South America Asia Central America

All India