Uniblastin Vinblastine 10mg Injection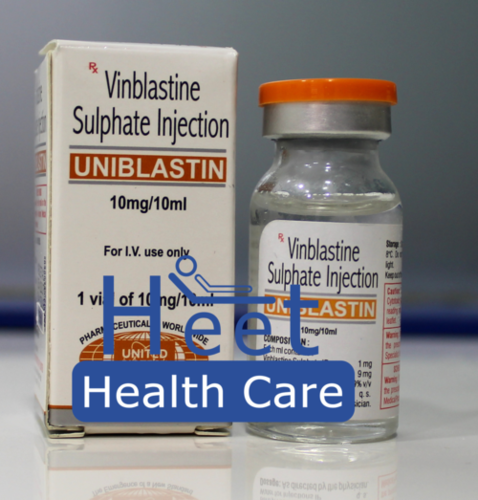 Uniblastin Vinblastine 10mg Injection
Price And Quantity
Product Specifications
Generic Drugs

Vinblastine 10 mg
Breast cancer and leukemia

As guided by physician
Product Description
Vinblastine, the active component in Uniblastin injection, has a 10mg dose. Antineoplastic drugs like vinblastine are used to treat various cancers like Hodgkin's lymphoma, non-Hodgkin lymphoma, and some forms of leukaemia.
A specific vinca alkaloid called vinblastine prevents cancer cells from proliferating and dividing. Microtubule production is interfered with, which is crucial for cell replication and division.
Intravenously given uniblastin can be used alone or in combination with other chemotherapy medications.
To manage any adverse effects and guarantee the best possible treatment results, regular medical monitoring is required. Under the supervision of a licenced healthcare provider with experience treating cancer, uniblastin should be utilised.
Uniblastin Vinblastine 10mg Injection side effects are possible, just like with any drug. Nausea, vomiting, hair loss, bone marrow suppression, and peripheral neuropathy are examples of frequent adverse effects. Throughout Uniblastin therapy, patients should instantly notify their healthcare practitioner of any unsettling symptoms or side effects. To manage potential adverse effects and maximise therapy effectiveness, routine blood tests and medical monitoring are required.
Uniblastin Vinblastine 10mg Injection Features and Advantages:
Features:
1. Vinblastine, an antineoplastic drug, is the substance that makes up the active ingredient in uniblastin injection.
2. Vinca Alkaloid: Vinblastine is a member of the vinca alkaloid family, which is well-known for its ability to fight cancer.
3. Broad Spectrum: Hodgkin's lymphoma, non-Hodgkin lymphoma, and several forms of leukaemia are among the cancers that are treated with uniblastin.
4. Vinblastine acts by preventing cancer cells from dividing and growing, which stops the cells from proliferating.
5. Uniblastin is delivered intravenously, enabling efficient medicine absorption into the bloodstream.
Benefits:
1. Cancer Treatment: Uniblastin is a crucial part of chemotherapy combination regimens for some forms of cancer, aiding in remission and improving treatment results.
2. Hodgkin's Lymphoma: Vinblastine has demonstrated important advantages in the treatment of Hodgkin's lymphoma, contributing to high cure rates.
3. Non-Hodgkin Lymphoma: Uniblastin has the capacity to regulate and induce remission in some non-Hodgkin lymphoma forms when utilised in treatment.
4. Vinblastine is occasionally used to treat specific forms of leukaemia, which helps to better manage the condition and increase survival rates.
5. Uniblastin is frequently used in combination with other chemotherapy medications to provide synergistic effects and enhance the effectiveness of the therapy.
6. Vinblastine can aid in tumour reduction, which relieves symptoms and enhances the quality of life for cancer patients.
7. Vinblastine is mildly myelosuppressive, which means it might have less of an effect on bone marrow function and blood cell formation than some other chemotherapy drugs.
8. Vinblastine tends to prefer attacking cancer cells over normal cells, which reduces several adverse effects related to other chemotherapies. This property is known as tissue selectivity.
It is crucial to remember that Uniblastin Vinblastine 10mg Injection should only be administered under the supervision of a trained medical expert with experience in the treatment of cancer. Before beginning treatment, patients should talk with their healthcare provider about possible side effects and advantages. For the best results and to control any potential side effects, regular medical monitoring is essential. To control adverse effects and increase the efficacy of treatment, patients should be continuously watched and given supportive care.
Trade Information
Delhi, Mumbai

Letter of Credit (L/C) Letter of Credit at Sight (Sight L/C) Western Union Paypal Cash Advance (CA) Telegraphic Transfer (T/T) Cash in Advance (CID) Cheque
Per Box 1 Vial

North America South America Eastern Europe Middle East Western Europe Africa Central America Asia Australia